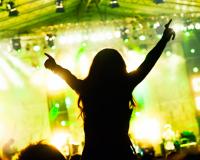 Promocja koncertów w streamingu


Obecnie w branży muzycznej dominują dwa trendy: serwisy streamingowe zapewniają promocję i niesatysfakcjonujące tantiem oraz przychody z wydarzeń muzycznych na żywo, każdego roku nabierają większego znaczenia. To stymuluje poszukiwanie przez rynek nowych rozwiązań biznesowych.
Przeczytaj więcej
Sony szykuje Internetowy serial muzyczny z popularnym YouTuberem
American Music Awards
Tidal Theather na Brooklynie
Targi Muzyczne Co Jest Grane
Paryż
Adele w stacjach radiowych
Foo Fighters odebrali Fryderyka
Branża muzyczna przyniosła Wielkiej Brytanii 4 miliardy funtów
"Piątki z Nową Muzyką" na Audio Video Show
Nowy teledysk Adele pobił rekord na YouTubie
YouTube Red
MTV EMA 2015 - wyniki
MTV Europe Music Awards 2015
Soundedit Festival
Ideas Powered – nowa strona internetowa propagująca ochronę własność intelektualną
Medale Zasłużonych Kulturze Gloria Artis
Postępowanie w sprawie uzyskania nielegalnego dostępu do kont pocztowych ZPAV
Music Cities Convention – Miasta Muzyki
Ed Sheeran wygenerował 20 milionów dolarów na Spotify
Francja wspiera branżę muzyczną
Dochodowa sprzedaż płyt winylowych
Firmy fonograficznej wygrywają w sądzie z VKontakte – rosyjskim odpowiednikiem Facebooka
Branża muzyczna siłą napędową niemieckiej gospodarki – Raport niemieckiego przemysłu muzycznego
Apple Music Festival
FBI walczy z piractwem fonograficznym
Wyniki finansowej wielkiej trójki
Justin Bieber pobił rekord w streamingu
Shazam ma prawie 120 milionów użytkowników
MTV Video Music Awards 2015 – wyniki
Eska Music Awards 2015 – Kto otrzymał nagrodę?
Popularność SoundCloud wzrosła dwukrotnie
Amazon Prime Music w Europie
Półroczne podsumowanie Oficjalnej Listy Sprzedaży
Wyróżnienia dla singli
W maju Eska.pl miała więcej użytkowników niż Polskieradio.pl
Radio Norda FM z Internetu w eter
Rihanna z rekordową liczbą sprzedanych singli
Piosenki w galeriach handlowych – TOP 15
Ogłoszono nominacje do MTV Video Music Awards
1989 najszybciej sprzedającym się albumem od 10 lat w USA
Rebranding TV.Disco i Mjuzik.tv
Radio Pogoda również w Warszawie
RUSZA PROJEKT "PIĄTKI Z NOWĄ MUZYKĄ" – JUŻ OD NAJBLIŻSZEGO PIĄTKU ALBUMY I SINGLE BĘDĄ UKAZYWAĆ SIĘ NA CAŁYM ŚWIECIE W TYM SAMYM DNIU
Ruszył Apple Music
Brytyjscy artyści mają największy udział w rynku światowym od 5 lat
Viva Polska wraca do korzeni
SoundCloud podpisał umowę z niezależnymi wytwórniami
Senat RP przyjął Ustawę o zmianie ustawy o prawie autorskim i prawach pokrewnych
PIĄTKI Z NOWĄ MUZYKĄ – już 10 lipca rusza światowy dzień premier muzycznych
Apple Music – nowy serwis muzyczny
Live Nation przyzna swoje nagrody w Stanach Zjednoczonych
Najpopularniejsze źródła pozyskiwania muzyki – analiza Gazety Wyborczej
Zmiany w regulaminie przyznawania wyróżnień.
ZPAV na Targach GASTROEXPO
Opłaty za odtwarzanie muzyki – podsumowanie 2014 r. OZZ ZPAV
Billboard Music Awards 2015 rozdane
Sejm uchwalił nowelizację prawa autorskiego, przedłużającą okres ochrony praw artystów wykonawców i producentów fonogramów do 70 lat
Fryderyki 2015, rozdanie nagród w sekcjach Muzyki Poważnej - relacja
Fryderyki 2015 – relacja
TOP dyskoteki
Nowy szef muzyczny w Radiowej Jedynce
Ruszyła strona czystenośniki.pl
Zmiany w Radiu ZET – nowy szef muzyczny
Fryderyki wręczone po raz 21!
FRYDERYKI 2015 W KATEGORIACH MUZYKI POWAŻNEJ WRĘCZONE!
IFPI DIGITAL MUSIC REPORT 2015
Konferencja Muzyka a Biznes
Nowe zestawienia na Wyspach Brytyjskich
Nominacje do Billboard Music Awards
Ruszył serwis Tidal
Narodowe nagrody muzyczne 2015
Branża muzyczna podsumowała rok 2014 r.
LECH JANERKA, JANUSZ MUNIAK I KAZIMIERZ KORD LAUREATAMI NAGRÓD ZŁOTY FRYDERYK 2015
ZPAV oficjalnie partnerem Wyższej Szkoły Policji w Szczytnie
Światowy dzień premier muzycznych uzyskuje pozytywną rekomendację w międzynarodowych konsultacjach branżowych
Nagroda IFPI Global Recording Artist of 2014 dla Taylor Swift
Brit Awards rozdane
Oscary 2015 – kategorie muzyczne
Nowe rekordy streamingowe
Zwycięzcy Grammy Awards
Sąd w Poznaniu utrzymał w mocy decyzję Komisji Prawa Autorskiego o zatwierdzeniu tabel wynagrodzeń za odtwarzanie muzyki w klubach i dyskotekach.
Więcej aktualności
Zestawienia Airplays
BMAT TOP AIRPLAY
14.11. - 20.11.2015
ANTEK SMYKIEWICZ
POMIMO BURZ
UNIVERSAL MUSIC POLAND
ROBIN SCHULZ
SUGAR (FEAT. FRANCESCO YATES)
WARNER MUSIC POLAND
LOST FREQUENCIES FEAT. JANIECK DEVY
REALITY
MAGIC RECORDS
ADELE
HELLO
XL RECORDINGS
R. CITY FEAT. ADAM LEVINE
LOCKED AWAY
SONY MUSIC ENTERTAINMENT POLAND
ZARA LARSSON
LUSH LIFE
SONY MUSIC ENTERTAINMENT POLAND
ADAM LAMBERT
ANOTHER LONELY NIGHT
WARNER MUSIC POLAND
ALVARO SOLER
EL MISMO SOL
UNIVERSAL MUSIC POLAND
ONE DIRECTION
DRAG ME DOWN
SONY MUSIC ENTERTAINMENT POLAND
AVICII
FOR A BETTER DAY
UNIVERSAL MUSIC POLAND
BEDNAREK
EUFORIA
LOU & ROCKED BOYS
VIDEO
KTOŚ NOWY
UNIVERSAL MUSIC POLAND
BASTO
HOLD YOU (EXTENDED MIX)
MAGIC RECORDS
CALVIN HARRIS & DISCIPLES
HOW DEEP IS YOUR LOVE
SONY MUSIC ENTERTAINMENT POLAND
IMANY
DON'T BE SO SHY (FILATOV & KARAS REMIX)
MAGIC RECORDS
JAIN
COME
SONY MUSIC ENTERTAINMENT POLAND
NICKY JAM FT. ENRIQUE IGLESIAS
EL PERDÓN
SONY MUSIC ENTERTAINMENT POLAND
NAUGHTY BOY
RUNNIN' (LOSE IT ALL) FEAT. BEYONCÉ, ARROW BENJAMIN
UNIVERSAL MUSIC POLAND
OMI
HULA HOOP
SONY MUSIC ENTERTAINMENT POLAND
X AMBASSADORS
RENEGADES
UNIVERSAL MUSIC POLAND
FELIX JAEHN
BOOK OF LOVE FEAT. POLINA
UNIVERSAL MUSIC POLAND
EWA FARNA
TU
MAGIC RECORDS
MICAR
THIS TIME IT'S MY LIFE
MAGIC RECORDS
ED SHEERAN
PHOTOGRAPH
WARNER MUSIC POLAND
TAYLOR SWIFT
WILDEST DREAMS
UNIVERSAL MUSIC POLAND
MAJOR LAZER
POWERFUL (FEAT. ELLIE GOULDING & TARRUS RILEY)
WARNER MUSIC POLAND
CHARLIE PUTH
MARVIN GAYE (FEAT. MEGHAN TRAINOR)
WARNER MUSIC POLAND
DAWID PODSIADŁO
W DOBRĄ STRONĘ
SONY MUSIC ENTERTAINMENT POLAND
THOMAS JACK
RIVERS
WARNER MUSIC POLAND
RUDIMENTAL
LAY IT ALL ON ME (FEAT. ED SHEERAN)
WARNER MUSIC POLAND
ALEXANDRA STAN & INNA FEAT. DADDY YANKEE
WE WANNA
MAGIC RECORDS
LOUANE
AVENIR
UNIVERSAL MUSIC POLAND
THE WEEKND
CAN'T FEEL MY FACE
UNIVERSAL MUSIC POLAND
YEARS & YEARS
SHINE
UNIVERSAL MUSIC POLAND
MONIKA LEWCZUK
#TAM TAM
UNIVERSAL MUSIC POLAND
LIBER
7 RZECZY (FEAT. MATEUSZ ZIÓŁKO)
GORGO MUSIC
TIESTO & DON DIABLO
CHEMICALS
MUSICAL FREEDOM
ELLIE GOULDING
ON MY MIND
UNIVERSAL MUSIC POLAND
DAVID GUETTA & SHOWTEK
SUN GOES DOWN (FEAT. MAGIC! & SONNY WILSON)
WARNER MUSIC POLAND
FELIX JAEHN FEAT JASMINE THOMPSON
AIN'T NOBODY (LOVES ME BETTER)
UNIVERSAL MUSIC POLAND
JASON DERULO
WANT TO WANT ME
WARNER MUSIC POLAND
MADCON
DON'T WORRY (FEAT. RAY DALTON)
WARNER MUSIC POLAND
RICO BERNASCONI & TUKLAN FEAT. A-CLASS & SEAN PAUL
EBONY EYES
MAGIC RECORDS
LANBERRY
PODPALIMY ŚWIAT
UNIVERSAL MUSIC POLAND
DAVID GUETTA
BANG MY HEAD FEAT SIA & FETTY WAP
WARNER MUSIC POLAND
JESS GLYNNE
DON'T BE SO HARD ON YOURSELF
WARNER MUSIC POLAND
SIA
ALIVE
SONY MUSIC ENTERTAINMENT POLAND
FLO RIDA
I DON'T LIKE IT, I LOVE IT (FEAT. ROBIN THICKE & VERDINE WHITE)
WARNER MUSIC POLAND
KYGO FEAT. PARSON JAMES
STOLE THE SHOW
SONY MUSIC ENTERTAINMENT POLAND
NATALIA NYKIEL
BĄDŹ DUŻY
UNIVERSAL MUSIC POLAND
ANNA NAKLAB FEAT ALLE FARBEN & YOUNOTUS
SUPERGIRL
SONY MUSIC ENTERTAINMENT POLAND
ENEJ
DZISIAJ BĘDĘ JA
LOU & ROCKED BOYS
KYGO FEAT. ELLA HENDERSON
HERE FOR YOU
SONY MUSIC ENTERTAINMENT POLAND
COLDPLAY
ADVENTURE OF A LIFETIME
WARNER MUSIC POLAND
SIGALA
EASY LOVE
MAGIC RECORDS
WHITNEY HOUSTON
I WANNA DANCE WITH SOMEBODY
SONY MUSIC ENTERTAINMENT POLAND
BRACIA
MOJA PRZYSTAN
SONY MUSIC ENTERTAINMENT POLAND
JOHN NEWMAN
LOVE ME AGAIN
UNIVERSAL MUSIC POLAND
WALK THE MOON
SHUT UP AND DANCE
SONY MUSIC ENTERTAINMENT POLAND
THE POLICE
EVERY BREATH YOU TAKE
UNIVERSAL MUSIC POLAND
KENDJI GIRAC
ANDALOUSE
UNIVERSAL MUSIC POLAND
PHARRELL WILLIAMS
HAPPY
SONY MUSIC ENTERTAINMENT POLAND
ARMIN VAN BUUREN FEAT. CIMO FRÄNKEL
STRONG ONES
SONY MUSIC ENTERTAINMENT POLAND
BILL MEDLEY
I'VE HAD THE TIME OF MY LIFE
SONY MUSIC ENTERTAINMENT POLAND
NILS VAN ZANDT FEAT MAYRA VERONICA
PARTY CRASHER
MAGIC RECORDS
JOHN MAMANN
LOVE LIFE FEAT. KIKA
MAGIC RECORDS
STRACHY NA LACHY
DZIEŃ DOBRY KOCHAM CIĘ
S.P. RECORDS
EUROPE
THE FINAL COUNTDOWN
SONY MUSIC ENTERTAINMENT POLAND
DAFT PUNK
GET LUCKY FEAT. PHARRELL WILLIAMS
SONY MUSIC ENTERTAINMENT POLAND
DEORRO FEAT. DYCY AND ADRIAN DELGADO
PERDÓNAME
SONY MUSIC ENTERTAINMENT POLAND
OMI
CHEERLEADER (FELIX JAEHN REMIX RADIO EDIT)
SONY MUSIC ENTERTAINMENT POLAND
ASAF AVIDAN & THE MOJOS
ONE DAY / RECKONING SONG (WANKELMUT REMIX)
SONY MUSIC ENTERTAINMENT POLAND
MÅNS ZELMERLÖW
HEROES
WARNER MUSIC POLAND
NICO & VINZ
AM I WRONG
WARNER MUSIC POLAND
CARLY RAE JEPSEN
CALL ME MAYBE
UNIVERSAL MUSIC POLAND
LOREEN
EUPHORIA
WARNER MUSIC POLAND
AXWELL & INGROSSO
SUN IS SHINING (RADIO EDIT)
UNIVERSAL MUSIC POLAND
KWABS
WALK
WARNER MUSIC POLAND
MICHAEL JACKSON
BLACK OR WHITE
SONY MUSIC ENTERTAINMENT POLAND
HAPPYSAD
ZANIM PÓJDĘ
S.P. RECORDS
JOAN JETT & THE BLACKHEARTS
I LOVE ROCK N' ROLL
WARNER MUSIC POLAND
MROZU
NIC DO STRACENIA FEAT. SOUND N' GRACE
GORGO/WARNER MUSIC POLAND
ERIC CARMEN
HUNGRY EYES
SONY MUSIC ENTERTAINMENT POLAND
TABB & SOUND'N'GRACE
DACH
GORGO MUSIC
MAANAM
CYKADY NA CYKLADACH
WARNER MUSIC POLAND
NICKELBACK
TRYING NOT TO LOVE YOU
WARNER MUSIC POLAND
CAPITAL CITIES
SAFE AND SOUND
UNIVERSAL MUSIC POLAND
SIGMA
NOBODY TO LOVE
UNIVERSAL MUSIC POLAND
MELANIE FIONA
MONDAY MORNING
UNIVERSAL MUSIC POLAND
PITBULL & NE-YO
TIME OF OUR LIVES
SONY MUSIC ENTERTAINMENT POLAND
MADONNA
MATERIAL GIRL
WARNER MUSIC POLAND
ROTARY
NA JEDNEJ Z DZIKICH PLAŻ
UNIVERSAL MUSIC POLAND
MYSLOVITZ
SCENARIUSZ DLA MOICH SĄSIADÓW
SONY MUSIC ENTERTAINMENT POLAND
INNA
BOP BOP (FEAT. ERIC TURNER)
MAGIC RECORDS
ALANNAH MYLES
BLACK VELVET
WARNER MUSIC POLAND
CHER
THE SHOOP SHOOP SONG (IT'S IN HIS KISS)
UNIVERSAL MUSIC POLAND
U2
ONE
UNIVERSAL MUSIC POLAND
LILLY WOOD & THE PRICK AND ROBIN SCHULZ
PRAYER IN C (ROBIN SCHULZ RADIO EDIT)
WARNER MUSIC POLAND
ROXETTE
SLEEPING IN MY CAR
WARNER MUSIC POLAND
CHRIS REA
THE ROAD TO HELL
WARNER MUSIC POLAND
BMAT TOP AIRPLAY NOWOŚCI
14.11. - 20.11.2015
RUDIMENTAL
LAY IT ALL ON ME (FEAT. ED SHEERAN)
WARNER MUSIC POLAND
DAVID GUETTA
BANG MY HEAD FEAT.SIA & FETTY WAP
WARNER MUSIC POLAND
KYGO FEAT.ELLA HENDERSON
HERE FOR YOU
SONY MUSIC ENTERTAINMENT POLAND
BRACIA
MOJA PRZYSTAŃ
SONY MUSIC ENTERTAINMENT POLAND
ARMIN VAN BUUREN FEAT. CIMO FRANKEL
STRONG ONES
SONY MUSIC ENTERTAINMENT POLAND
BMAT TOP AIRPLAY NAJWIĘKSZE SKOKI
14.11. - 20.11.2015
LANBERRY
PODPALIMY ŚWIAT
UNIVERSAL MUSIC POLAND
FELIX JAEHN
BOOK OF LOVE FEAT. POLINA
UNIVERSAL MUSIC POLAND
FELIX JAEHN FEAT.JASMINE THOMPSON
AIN'T NOBODY (LOVES ME BETTER)
UNIVERSAL MUSIC POLAND
FLO RIDA
I DON'T LIKE IT, I LOVE IT (FEAT. ROBIN THICKE & VERDINE WHITE
WARNER MUSIC POLAND
WHITNEY HOUSTON
I WANNA DANCE WITH SOMEBODY
SONY MUSIC ENTERTAINMENT POLAND
BMAT TOP VIDEO
14.11. - 20.11.2015
ELLIE GOULDING
ON MY MIND
UNIVERSAL MUSIC POLAND
RICO BERNASCONI & TUKLAN FEAT. A-CLASS & SEAN PAUL
EBONY EYES
MAGIC RECORDS
CALVIN HARRIS & DISCIPLES
HOW DEEP IS YOUR LOVE
SONY MUSIC ENTERTAINMENT POLAND
KYGO FEAT. ELLA HENDERSON
HERE FOR YOU
SONY MUSIC ENTERTAINMENT POLAND
ROBIN SCHULZ
SUGAR (FEAT. FRANCESCO YATES)
WARNER MUSIC POLAND