23 kwietnia 2020 r.
Koncert "One World: Together At Home" zebrał 128 mln dolarów na walkę z COVID-19
Koncert "One World: Together At Home", czyli ośmiogodzinna transmisja, podczas której występowali tacy artyści jak Billie Eilish, Jennifer Hudson, Elton John, Juanes, Lizzo, Jennifer Lopez, Paul McCartney, Kacey Musgraves, The Rolling Stones, Taylor Swift czy Stevie Wonder, odbył się w miniony weekend.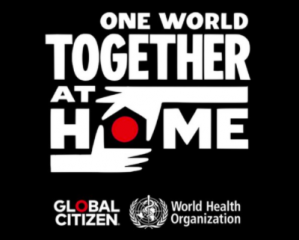 Zorganizowane przez organizację Global Citizen wraz ze Światową Organizacją Zdrowia (WHO) oraz Lady Gagą wydarzenie oddawało cześć pracownikom służby zdrowia a także innym osobom na pierwszej linii frontu walki z pandemią COVID-19.
Według Global Citizen, koncert "One World: Together At Home" zebrał środki w wysokości 127,9 mln dolarów na wsparcie pracowników służby zdrowia w walce z pandemią COVID-19. Około 55,1 mln dolarów trafiło bezpośrednio do Funduszu Solidarności COVID-19, który umożliwia śledzenie i powstrzymywanie rozprzestrzeniania się koronawirusa, a także zapewnienie pacjentom i pracownikom bezpośrednio zaangażowanym w tę walkę potrzebnych im środków.
Wydarzenie odbyło się na kilku platformach internetowych, a także transmitowane było w telewizji. Pieniądze ciągle jeszcze nie przestają napływać, ponieważ Universal Music Group ogłosiło właśnie, że we współpracy z Global Citizen wyda ścieżkę dźwiękową z koncertu "One World: Together At Home" w formie albumu audio. Album ten zawiera 79 utworów i jest już dostępny w Amazon Music, Apple Music, Spotify i Tidal. Cały związany z nim dochód artystów, wytwórni płytowych i serwisów odtwarzania strumieniowego zostanie przekazany na rzecz Global Citizen w ramach wsparcia Funduszu Solidarności COVID-19.
Hugh Evans, współzałożyciel i dyrektor generalny Global Citizen, skomentował to następująco: Dzięki hojnemu wsparciu artystów, wytwórni płytowych i największych światowych serwisów streamingowych, album One World: Together At Home. The Album będzie nadal generował wsparcie dla służby zdrowia i innych pracowników na pierwszej linii działania na całym świecie, którzy pomagają ratować życia. Dzięki temu albumowi fani będą mogli powrócić do swoich ulubionych występów, a ci, którzy być może przegapili transmisję na żywo, będą mogli doświadczyć poczucia wspólnoty stworzonego przez to historyczne, globalne wydarzenie.
Pełna lista utworów z albumu One World: Together At Home. The Album znajduje się poniżej.
1. Smile — Lady Gaga
2. Lean on Me / Love's in Need of Love Today — Stevie Wonder
3. Lady Madonna — Paul McCartney
4. Rainbow – Kacey Musgraves
5. I'm Still Standing — Elton John
6. Safety Dance — Jimmy Fallon & The Roots
7. Carnaval — Maluma
8. What a Wonderful World — Camila Cabello & Shawn Mendes
9. River Cross – Eddie Vedder
10. A Change is Gonna Come — Lizzo
11. You Can't Always Get What You Want — The Rolling Stones
12. Higher Love — Keith Urban
13. African Giant / Hallelujah — Burna Boy
14. People — Jennifer Lopez
15. Stand by Me — John Legend & Sam Smith
16. Wake Me Up When September Ends — Billie Joe Armstrong
17. Sunny — Billie Eilish & Finneas
18. Soon You'll Get Better — Taylor Swift
19. The Prayer — Andrea Bocelli, Céline Dion, John Legend, Lady Gaga & Lang Lang
20. Rise Up — Andra Day
21. Black and White — Niall Horan
22. Aaj Bhi — Vishual Mishra
23. Purple Hat — Sofi Tukker
24. The Bones — Hozier & Maren Morris
25. Mad World — Adam Lambert
26. I Will Never Let You Down — Rita Ora
27. Rainbow — Kesha
28. Nocturne in B Flat Minor, Op. 9, No. 1 — Lang Lang & Gina Alice Redinger
29. No Me Doy Por Vencido — Luis Fonsi
30. Memory — Jennifer Hudson
31. Drive — Black Coffee & Delilah Montagu
32. Mr. Brightside — The Killers
33. Sajna Ve — Lisa Mishra
34. Stolen Dance — Milky Chance
35. See You Again — Charlie Puth
36. Coffin — Jessie Reyez
37. Troublemaker — Picture This
38. Flashlight — Jessie J
39. The Light — Common
40. Robarte Un Beso — Sebastián Yatra
41. I Want to Hold Your Hand — Ben Platt
42. Together We are One — Delta Goodrem
43. I Save the World the Day — Annie Lennox
44. I Shall Believe — Sheryl Crow
45. Más Futuro Que Pasado — Juanes
46. Love Me Like You Do — Ellie Goulding
47. People, I've Been Sad — Christine and the Queens
48. Everybody's Got to Learn Sometime — Zucchero
49. Better Together — Jack Johnson
50. Praying — Kesha
51. Malome – Cassper Nyovest
52. Super Power — Adam Lambert
53. Drinkee — Sofi Tukker
54. Let's Fall in Love for the Night — Finneas
55. Caution — The Killers
56. I'll Be There — Jess Glynne
57. Good Over Here — Sho Madjozi
58. For You — Rita Ora & Liam Payne
59. God is Love — Common
60. Mountains — Christine and the Queens
61. Bad Habit — Ben Platt
62. Winona Ryder — Picture This
63. Es Por Tí — Juanes
64. Attention — Charlie Puth
65. Brown Skin Girl — Leslie Odom Jr.
66. Sunshine Girl — Billy Ray Cyrus
67. Burn — Ellie Goulding
68. Everyday is a Winding Road — Sheryl Crow
69. Take Me to Church — Hozier
70. Balance ton quoi — Angèle
71. Un Año — Sebastián Yatra
72. With You — SuperM
73. Despacito — Luis Fonsi
74. Bang Bang — Jessie J
75. What I'm Leaving For — Lady Antebellum
76. There Must Be an Angel — Annie Lennox & Lola Lennox
77. Slow Hands — Niall Horan
78. Bigger Love — John Legend
79. Hallelujah — Jennifer Hudson
Źródło: https://www.musicbusinessworldwide.com